G-Priv 3 is Smok's successor to G-Priv and G-Priv 2 devices. The TFV16 Lite storage tank is included in the Smok G-Priv 3 kit and has a mesh coil, resin dripper, 5 ml juice capacity, safety lock mechanism, upgraded air flow system, top refill system and adjustable large air flow at the bottom.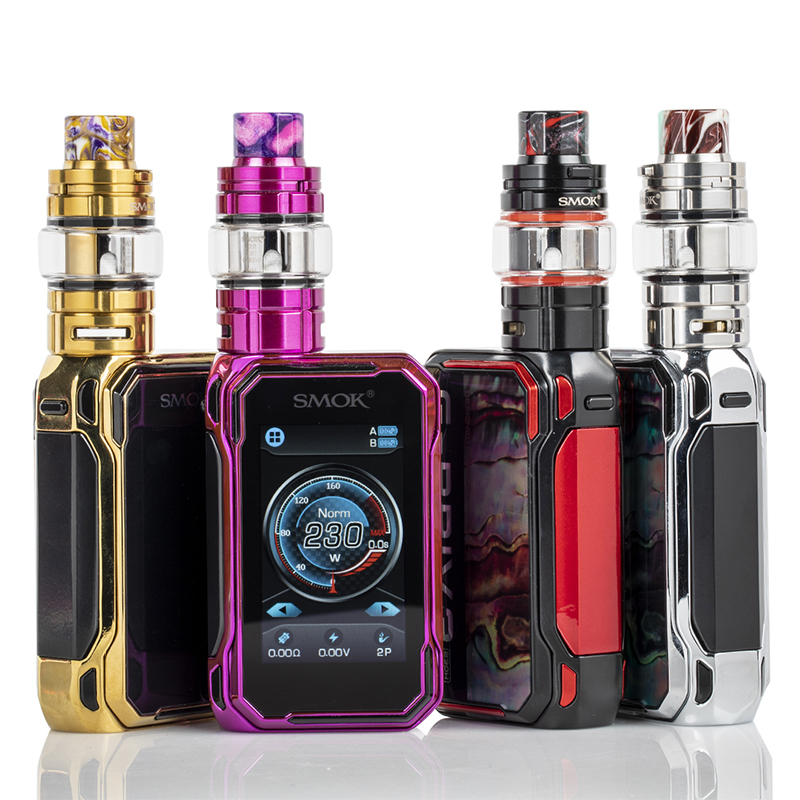 Design
This type of design also maximizes the bottom airflow inlet to condense the vapor to create a burst of flavor. And, thanks to the 0.2ohm heating element, the head delivers lightning-fast heating to produce intense vapor and flavor.
Touch screen
On the front of the Smok tech G-Priv 3, you will see a massive 2.4" full-color responsive touch screen that permits adjustments with a simple touch. The user interface is completely upgraded to provide crystal clear vape data such as current mode, current taste mode, battery life and more. And, you can personalize the UI to six different theme colors.
Mods
Many mods in the vape marketplace make it difficult to lock or unlock the display screen. The G-Priv 3 makes this process very easy thanks to an independent button located above the large fire mechanism on one of the smaller sides. To lock or unlock the mod, all you do is hold this secondary key for two seconds or press the fire key three times in rapid succession.
Tank
The TFV16 Lite utilizes mesh coils, two of which are included with purchase. The Lite Conical Mesh coil results in a warm throat hit and has a 0.2ohm resistance with fast heating to produce massive vapor and flavor.
Summary
The top cover on the atomizer rotates open to expose a juice port for easy refilling. To add juice, press the lock button and move the top cover counterclockwise. This not only prevents accidental leakage, but also prevents accidental opening of the water tank.
Related vape we recommend:
cheap smok alike vape kit