The NKD 100 Max Disposable Vape is an amazing disposable device available at vape shops that will last for days. It does almost everything you could expect from a product, it's compact, small in size, simple yet stunning in design, and it's incredibly comfortable in the hand, with a pull-to-activate design that conforms to the human body Engineering, easy everyday vape. The small size of the Naked NKD100 Max allows you to easily slip it into your pocket, and it is discreet enough to fit in your palm or breast pocket, so you don't have to worry about not being able to carry it on any occasion.
Since the NKD 100 Max is a disposable electronic cigarette device, the designer took into account the practicality of the product and equipped it with a pre-charged 500mAh high-capacity rechargeable battery and a pre-installed 10mL e-liquid capacity. The large rechargeable battery and huge vape juice capacity can give you enough power to enjoy your e-liquid, as well as up to 4500 puffs full of exciting flavors and 50mg of salted nicotine. It belongs to the more durable and uninterrupted best disposable vape 2022 in the same price and the same type of disposable electronic cigarette.
Naked 100 is a brand that puts the needs of its customers first and is known for its excellent research and e-liquid process, which is the fundamental reason why the brand can become a leading competitor in the field of e-cigarette devices and e-liquid, and so It has remained in the leading position for many years. The NKD100 Max can really sit down and satisfy every smoker's desire from the ground up, by producing smooth, long and dense clouds of deliciousness, offering the most pleasing taste and uninterrupted puffs, it's sure to be your favorite. The first choice for electronic cigarettes.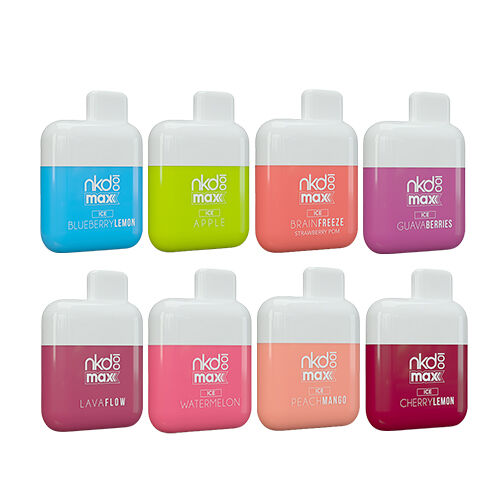 Specifications:
Brand: Naked Juice Company
Name: Nkd 100 Max
Flavor: Ice Apple
Puffs: 4500
Juice Capacity: 10ml
Battery: 500mAh
Rechargeable Battery
Nicotine Concentration: 5%
Nicotine Type: Salt Nicotine
Coil – 1.2 ohm Coil
Firing Mechanism: Draw Activated
naked nkd100 max Flavors:
Lava Flow: Strawberries, Pineapples, Coconut
Ice Watermelon: Watermelon, Menthol
Ice Peach Mango: Peach, Mango, Menthol
Ice Guava Berries: Guava, Mixed Berries, Menthol
Ice Cherry Lemon: Cheries, Lemons, Menthol
Ice Blueberry Lemon: Blueberries, Lemon, Menthol
Ice Brain Freeze: Strawberries, Pomegranate, Menthol
Ice Apple: Crisp Apples, Menthol
Recommended Products:
koi cbd vape oil strawberry milkshake
koi cbd vape oil vanilla caramel custard
Read More Related Articles: http://vapesecig.net/cbdfx-cbd-vape-pen-alleviate-anxiety/