There are some reviews about two 100w vape kits and tell me which one will be your flavor lover? There are both coming with nice designs and very ergonomic and very curvaceous. I like their sleek designs and sit in the hand perfectly.
Vaptio VEX 100 Kit 100W with Paragon Tank
The Vaptio Vex 100 Kit is a new release from Vaptio which is a bit odd and retro. The mod is the Vex 100 mod and the main striking feature is the display! It is like the old LCD calculator display in light up segments. This is a variable wattage only mod – no other modes and the wattage is displayed on the lights and is adjusted via the up and down buttons.
A great feature of this mod is the ability to use 21700, 20700 or 18650 (with adaptor) batteries. As seen on other Vaptio mods the 510 connectors are sealed to help prevent leaky tanks damaging the mod internals. The kit includes the Paragon tank which has mesh and strip coils. You get the 0.2ohm mesh and 0.15 strip coils in the kit. Vaptio VEX 100 Kit coming with 4 colors: Blue, Black, Purple, and Red.
Vaptio Vex 100 Mod Specs
Size: 34.5×31.5×88.7mm
Battery: 1×21700/20700/18650 (not included)
Output: 100W max
Resistance range: 0.03-5ohm
Modes: Variable Wattage
Display: retro light display
Leakproof 510 connector
Quickfire – 0.002s
Vaptio Paragon Tank Specs
Size: 25x49mm
Capacity: 8ml or 4ml
Top fill
Uses Paragon Strip/Mesh coils
Adjustable airflow
Vaporesso Armour Pro Kit With Cascade Baby Tank 100w
The Vaporesso Armour Pro Kit is one of the latest offerings from Vaporesso coming in the form of a single battery 100w kit including the Cascade Baby Tank and is another cutting-edge device from one of the world's leading vape brands. Vaporesso really does push out some lovely designs and it's keen to note, as, with a lot of Vaporesso devices, big things come in small packages.
It has a lovely sleek design and lovely curves enabling it to sit well even in the smallest of hands. The Armour Pro Kit is a single battery Mod allowing the use of either 21700, 20700 or 18650 also with the use of a battery adapter.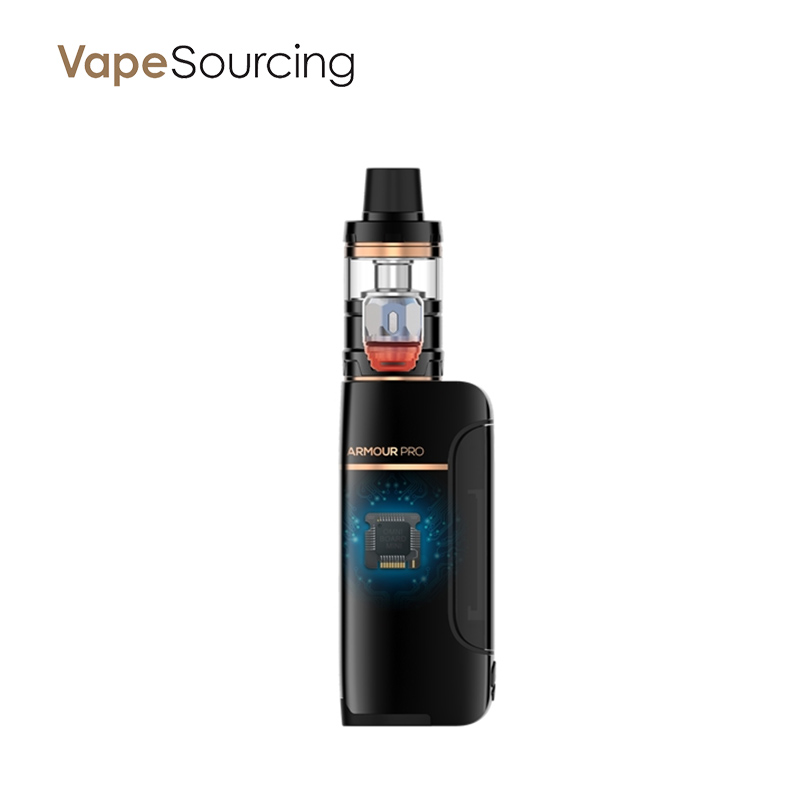 Vaporesso Armour Pro Kit Specs
Product Size: 38.5×27.0×86.0mm
Output Wattage: 5-100 Watts
Display OLED 0.96'
Resistance Range: 0.03Ω-5Ω
Charging Current: 2A Quick Charging
Single Battery: 21700, 20700, 18650
Firing Speed: 0.002 seconds
Omni Board 4.0
Cascade Baby Tank Specs
Tank size: 24.5x58mm
Capacity: 5ml
Top Fill System
Safety Lock Mechanism
GT Meshed Coil (0.18Ω) Pre-installed
>>>Where to find them? You may go to best vape shop online to have a look!
I have really enjoyed my time with this Vaptio VEX 100 Kit and the Vaporesso Armour Pro Kit. They both have great all round Mods, portable, light and looks the business. Their tank hasn't faltered at all throughout testing and produces some fabulous flavors no matter what flavor profile e-liquid you should choose.
>You may like:
https://vapesourcing.com/joyetech-riftcore-solo-rta.html
>Other reviews: