The brand new Amped from Uno (Skol) from vapesourcing.com is very popular with the current trendsetters and the younger generation. The design of 2000 puffs allows you to use it for several days without worrying about the embarrassment of not being able to vape outside. consider.
On top of that, it's designed in the flavors you love, but without tobacco nicotine. Tobacco-free nicotine is very popular right now, thanks to its unique flavor and more accessible design, tobacco-free nicotine juice is more flavorful than traditional tobacco-derived nicotine, so more and more People will choose such a device.
The Uno Amped has twice the battery capacity and double the size of the liquid reservoir than the general e-cigarette, to ensure your use time and vaping taste, combine them to make the vaping experience to the extreme. At the same time, the designers took into account its practicality and durability, and as a bonus, the Uno Amped disposable vape version is square with rounded edges, so it won't roll off like other disposables, and you can take it out with confidence, Because it will take care of itself.
The UNO AMPED Disposable Vape Cartridge is a closed cartridge system that is pre-filled with tobacco-free nicotine for great convenience. The UNO AMPED disposable e-cigarette device is synthetic 5% nicotine, battery rechargeable and maintenance free, you don't need to think about it, just enjoy your vaping process happily.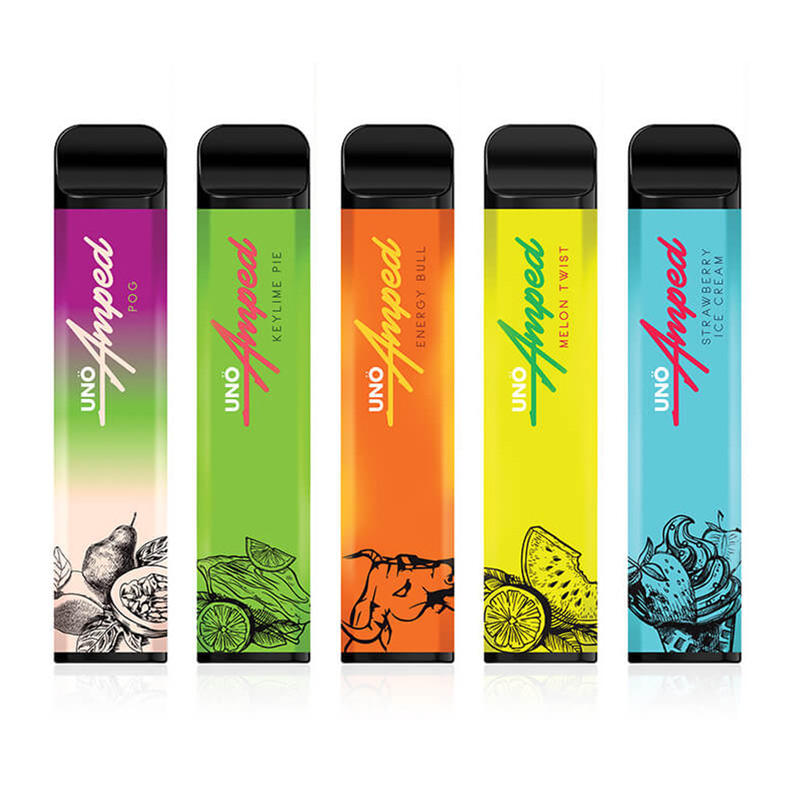 UNO AMPED comes in 12 exciting flavors, and I'll highlight a few of them for you below:
Energy Bull: Red Bull is as refreshing as a vape, so you can get rid of fatigue and full of energy in a short time.
Keylime Pie: Perfectly presented with a delicious lime flavor, sweet and sour, you can't stop sip after sip.
Lush ice: watermelon ice, is the best flavor for summer, sweet and delicious.
Melon Twist: Candy flavor with melon flavor, find a happy childhood in a happy amusement park.
Passion Fruit Mango: The fruity taste of passion fruit combined with the rich mango flavor puts you in a tropical orchard and is overwhelmed by the juicy fruit in just one bite.
Strawberry Yogurt: Bring back the feeling of your first love, Uno's most popular strawberry and cream flavor.
Uno Amped TFN Disposable Vape Flavors:
Cool Mint
Melon Twist
Passion Fruit Mango
Pina Colada
Keylime Pie
Strawberry Yogurt
Watermelon Candy
Rainbow
Lush Ice
Energy Bull
Specifications:
Capacity: 4ml
Flavors: 12 Available Flavors
Nicotine Strength: 5% (50mg) Synthetic Salt Nicotine
Puff Count: + 2000 Puffs
Battery Capacity: 1200mAh
Recommended Products:
lost mary os5000
naked 100 air bar box
Read More Related Articles: http://vapesecig.net/cloud-bar-geerdun-boom-disposable-is-coming/