We are very much looking forward to the surprises that Geek Bar will bring to you. You can learn directly from best online vape store that Geek Bar B5000 Disposable Vape Kits is the latest product released by Geek Bar. Let's find out what's so fascinating about this disposable device that catches your eye.
The Geek Bar B5000 disposable vapes with most puffs are designed with a combination of plastic and rubber, the mouthpiece part is convenient for you to smoke, and the duckbill-shaped crystal transparent material will make your vape taste to the extreme. The plastic material of the lower part of the device is gradient color, and the whole series adopts bright colors to distinguish different tastes. The Geek Bar B5000's outer shell is very soft, and the edges are rounded, so you don't feel like a diaphragm when you hold it in your hand.
The Geek Bar B5000 Vape is pre-filled with 14ml of 5% nicotine salt e-juice and has a built-in 650mAh rechargeable battery. The large-capacity e-juice capacity allows you to have up to 5000 puffs of vape time. The Geek Bar B5000 is available in a variety of flavors, the most popular of which are: Fuji Melon Ice, Juicy Peach Ice, Strawberry Kiwi Ice, Tropical Rainbow Blast, Strawberry Watermelon Bubblegum and Blue Razz Lemondade.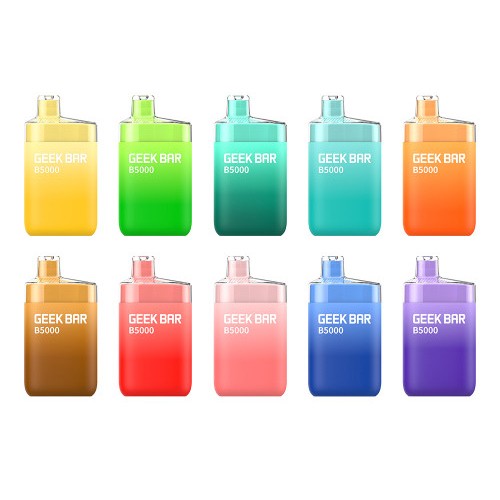 Specifications:
Puffs: 5000 Puffs
Nicotine Strength: 5%
Capacity: 14mL
Battery: 650mAh
Heating Element: Mesh Coil
Charging: Type-C Port
Features:
5% Tobacco-Free Nicotine
14ml E-Liquid
Draw Activated
650mAh Battery (rechargeable)
Recommended Products:
elf bar bb3500
lost mary vape 5000
Read More Related Articles: https://vapesecig.net/start-from-zero-vaporesso-zero-s-pod/