As we know, Hellvape has released many more famous products before, like the drop dead rda, and recently they have cooperated with HOT YOUBUTER reviewer Mike Vapes, he has designed a lot of popular products in the vape market. The new collaboration product is Hellvape ReBirth rda, does it will bring a new birth time of the hellvape's rda? And why the previous drop dead rda is so popular? Let's going to see!
Hellvape ReBirth BF RDA 24mm
As a 24mm diameter RDA with 6mm deep e-juice well, Hellvape Rebirth RDA will bring an astounding vaping experience with the purest flavor. Moreover, top cap locking system with adjustable airflow for users to adjust is available on the ReBirth RDA. With a gold-plated squonk pin, the ReBirth RDA can be used on squonk mods. The Hellvape ReBirth RDA can use 810 cobra drip tip and 810 frosted drip tip or as a bottom feeding atomizer with the included a gold-plated squonk pin. It is convenience for users with coily tool and the correct length to cut coils is 6.5mm.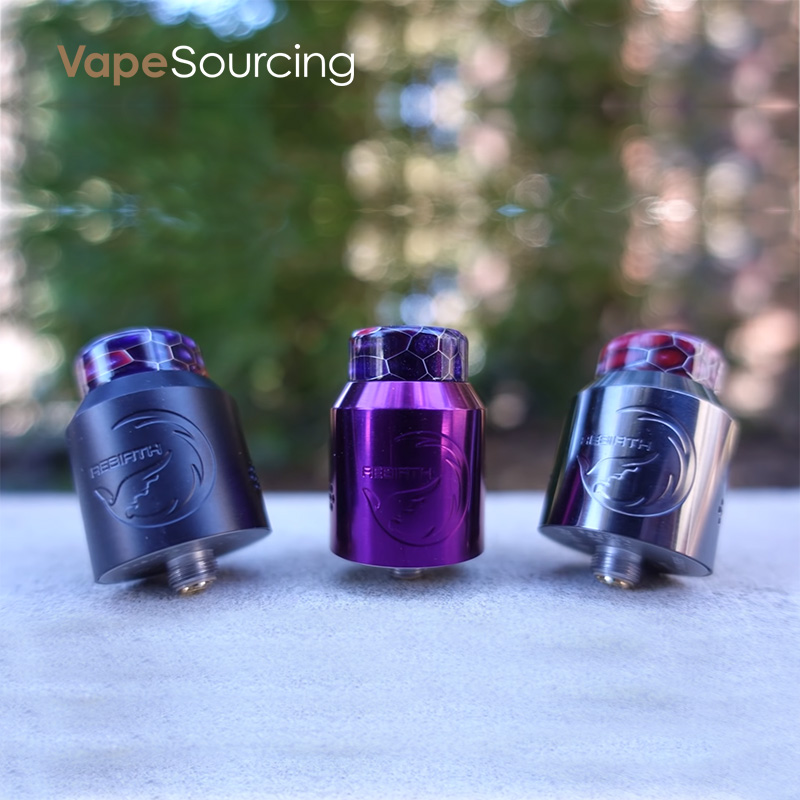 Hellvape ReBirth RDA Features and Specs:
Thread: 510 thread
Diameter: 24mm
Material: Stainless Steel
2 post build deck with gold plated positive post – 2.5 by 3.5mm post holes
16 1.2mm bottom adjustable honeycomb airflow for each side
Top cap locking system with adjustable airflow
Gold plated squonk pin included
6mm deep juice well with raised bottom airflow to prevent leaking
Flat head screws
810 cobra drip tip and 810 frosted drip tip included
With coily tool the correct length to cut coils is 6.5mm


Hellvape Drop Dead RDA 24mm
Drop Dead RDA is a collaborating by the Heathen, The Vapor Chronicles, and Hellvape Official. The Drop Dead RDA measuring 24mm in diameter which combines the best of two of the top RDAs on the market: the Dead Rabbit and the Drop RDA. The inside of the top cap is conical which combined with the compact design of the cap enhances the flavor output of the RDA. Drop Dead RDA compatible with the single and dual coils. Also, Drop Dead RDA has the deep juice building deck that can hold more e-juice and reduce the leak problem. Adopted the adjustable top airflow mechanism, it will not any spit back annoyance.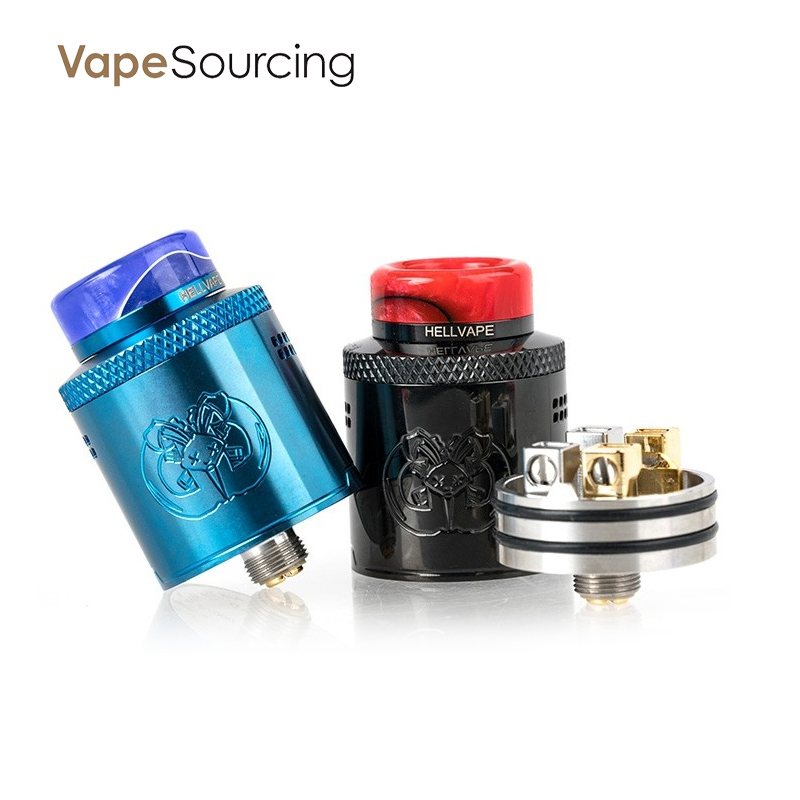 Hellvape Drop Dead RDA vape Atomizer Features:
Compatible with single and dual coils
Deep juice deck, hole more juice than others
Unique downward sloping airflow system, adjust top precise airflow system
Best Deck, Leak free, Purge capable
810 resin drip tip and optional 510 drip tip
24mm Diameter for most of Box Mods
Included the usual 510 Pin, Squonk BF pin and 510 stainless steel adapter
Conical top cap
Compact design for better flavor
Lock Mechanism
Downward slanting top airflow
BF/Squonk Capable
Deep juice well
>>>>Where to buy the two Hellvape rdas? Just go to vapesourcing shop vape online have a look!
For me, the two Hellvape rda I will have a try, and hope Hellvape can bring us more new feelings!
>You may also need:
https://vapesourcing.com/vandy-vape-kylin-v2-rta.html
>Read more: