Today I want to introduce two new sub ohm tank to you, we know that the sub ohm tanks allow for sub-ohm vaping, and there are the best choices for those love voluminous clouds. So if you are looking a new sub ohm tank, hope this article may help you!
Aspire Nepho Sub Ohm Tank 4ml
Aspire has released the Aspire Nepho tank device. The maintenance-free tank was completed with new quick-change coils, a top-stack with a blocking mechanism and a 4ml capacity. The device was given a stainless steel case with a rough, knurled surface. There are four colors: metallic, black, blue and rainbow. The tank was provided with a sliding cover with child protection. In an additional, retaining ring was placed between the base and the top of the tank. The bottom air was realized with three air inlets.
The tank works with Nepho coil specially designed for it, equipped with a quick fix system. There is a standard version with a coil of 0.5 ohms and an alternative grid with a resistance of 0.15 ohm, the recommended power for both is from 60 to 75 watts. New evaporators are removed or installed on the base with a minimum of manipulations. The volume is 4 ml e juice. For adjustment of the blower corresponds to the rotating ring at the bottom.
Aspire Nepho Sub Ohm Tank Parameters:
Height – 50 mm
Diameter – 27 mm
Volume – 4 ml
Adjustable airflow
Top dressing
Child protection
Sense Screen Tank 7ml
The company Sense has released a new tank Sense Screen Tank. An unattended tank was given an epoxy casing, a pot-bellied flask of 7 ml, and double-and triple-wound evaporators. Most of the tank, with the exception of the metal frame, was realized from epoxy resin, painted in black, red or blue. The composite 810th drip tip, which was included in the set, received a twisting nozzle for the color of the case, also provided an adapter with a similar texture for smaller formats. Hole refueling is hidden under the sliding cover. Three air holes were made on the lower air ring.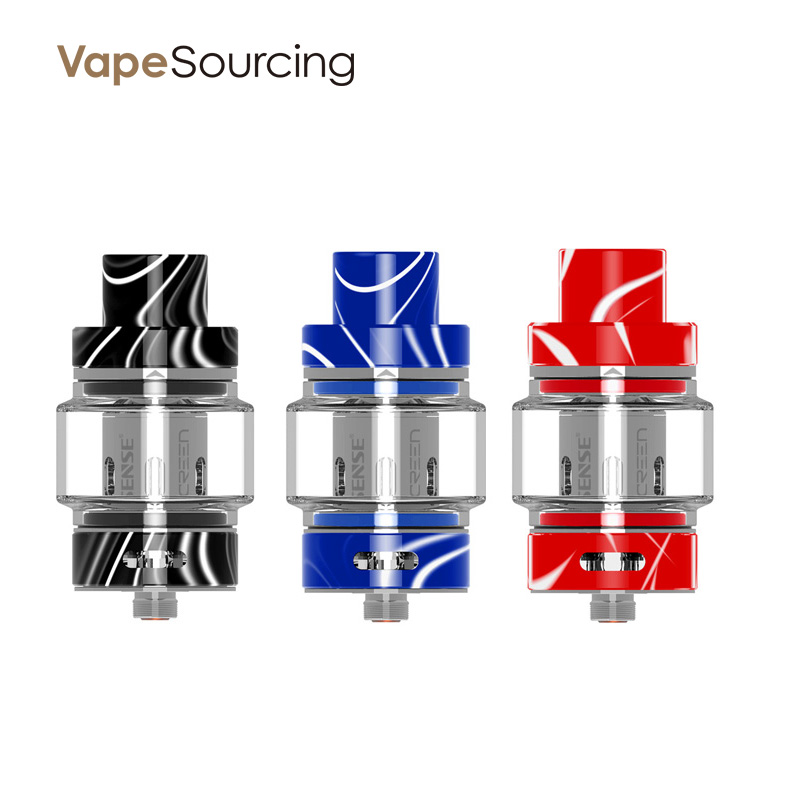 Under the glass is a pre-installed coil with two grids and a resistance of 0.23 ohms, if desired, it can be changed to a triple version, designed for 0.34 ohms and power from 60 to 150 watts. The maximum capacity of the tank is 7 ml, in addition, there is a spare flask of 4.5 ml. Blowing adjustment is carried out in the old manner – a ring.
Sense Screen Tank Parameters:
Height – 51.2 mm
Diameter – 25 mm
Weight – 52.8 g
Material – epoxy, stainless steel
Top dressing
Adjustable airflow
Our vapesourcing is providing many types of sub ohm tanks, like the SMOK prince tank price and Uwell Crown 3 Sub Ohm Tank, they are very famous and popular in the market! Also other new sub ohm tanks we are offering too. Remember as well that with sub ohm vaping you will not need an e-liquid with any more than 6 mg of nicotine. If you vape direct to the lung, you'll simply love the sub-ohm vaping experience. In fact, once you sub-ohm, you won't go back. On the flip, if you prefer mouth to the lung, above ohm vaping gear is the way to go. Sub-ohm tanks are pretty much like supercars. They are high performance, but they are not for everyone. But if you are a vape flavor lover and want to find fantastic build quality you don't miss the sub ohm tanks!
>>Go to vape stores read more, please!
>Related product:
https://vapesourcing.com/asmodus-amighty-mod.html
>Read more: